My Trek and I are still plugging away on our daily commuting rides, but I haven't had too much of interest to write about lately. I also haven't done much bike related link gathering in the last couple weeks with politics and the economy on my mind.  It seems crazy that I would invest more time in something that doesn't bring me much happiness versus something that I enjoy, but these are the times we live in I guess. I'm trying to get back into my groove though.
Sunday I dropped by the Pedals 2 People volunteer group photo, ate a little food and hung out for a little while before riding back home.  That short loop was the only riding I did for the day and I didn't go much further Saturday either.  All-around not too exciting a weekend for me cycling-wise.
Speaking of the P2P crew, I've been remiss in posting my photos fromt the Village Bicycle Project truck loading event a couple weeks back.  Here's the truck before we filled it up: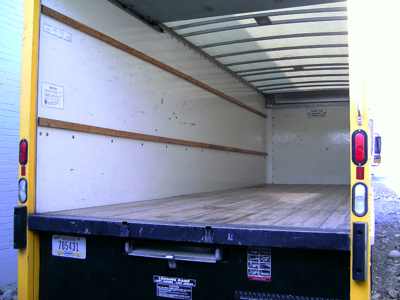 And again exactly two hundred bikes later: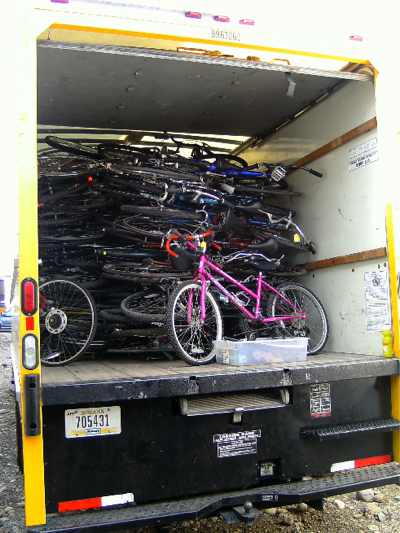 Pedals 2 People FTW: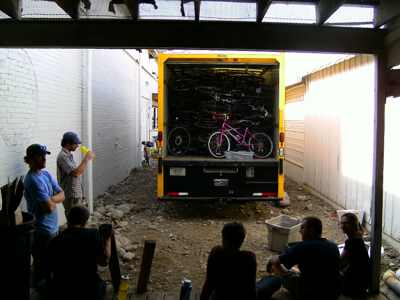 Oh and one more thing.  Here's a little sign of progress on my road bike building project.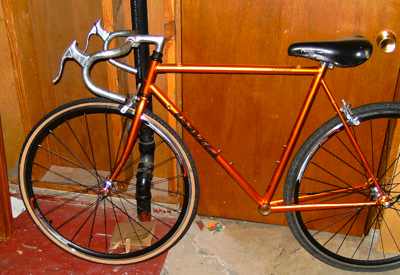 Nothing is adjusted or tightened down at this point. The brake levers and seat also need to be replaced, but I wanted to see it in a bikelike form.  No drive train or cables of any sort at the moment. I actually do have a matching 700x28c Panarace Pasala for the back, I was just testing the rear clearance with a 700x35c tire. It actually fits, but ultimately I will probably run something along the lines of these 700x33c tires with fenders for the types of rides I'm targeting (long and lightly loaded).