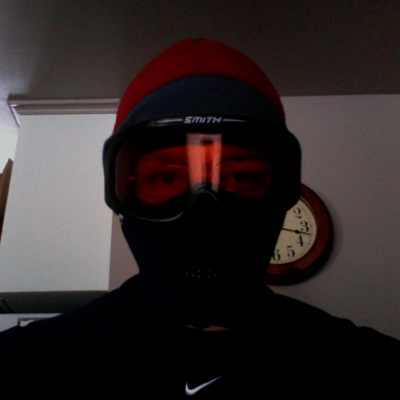 The artic blast we've been experiencing has definitely made winter riding more challenging than usual, but I've still managed to get my daily ride in.  Ski goggles plus a neoprene face mask has worked pretty well for my face with the extreme windchill, that's been going on, although my glasses started to fog up.  Contacts plus goggles is probably the best solution for that issue. The rest of my body was actually too warm with the extra layers I used today, but for a short ride it's not life threatening to break a sweat.
The roads have been pretty treacherous.  I stayed on the side roads today and while there's no traffic to worry about sliding into you to speak of, they're completely covered in slick rutted ice.  I used my snow bike again and stayed in the unplowed shoulder as much as possible since I don't have studs on it.  That worked pretty well, but I still managed to slide out my bike again at an intersection at the bottom of a small descent where the ice was unavoidable.  Somehow I managed to hop off my bike and stay upright on two feet as it slid out so that was cool.
It's hard to imagine riding down to work in these conditions, but given an hour or so and lots of bike hiking down the hill it would probably be doable.  I may give it a try in the middle of the week when my schedule allows.