The Midnight Century is roughly a month away and I've begun to ramp up my preparations. At the top of my todo list was riding the portion of the route I was least familiar with, the climbs and descents between the Centennial Trail and the Palouse Highway. Yesterday I took advantage of my day off and headed out.
The morning temperature was just about perfect- sunny, but at just over 50° F cool enough for a long sleeve jersey and base layer t-shirt. I figured I'd take off the jersey once I got into the climbs and I started heating up, but I never actually did because there was always just enough of a breeze to keep me cool.
I rode my Trek as it's perfectly set up for the kind of ride with the new 700x40c tires I put on a couple weeks ago. It's actually pretty stripped down these days. No rear rack or fenders and I've been using a waterproof Ortlieb backpack for commuting. I opted to use that to carry my food and other supplies for the ride and it worked fine, but I've got a Camelbak on order that will be much better suited for this type of ride or future S24O excursions.
Riding the Centennial Trail between GU and the Washington-Idaho border was pretty awesome. Not too many people out and about walking and it's flat and paved. With those conditions I was able to cruise along at just under 30 km/h most of the way. It's actually been a couple years since I've ridden out that direction all the way to the border and it was pretty encouraging to get more confirmation that I'm faster and stronger than I was a few years ago.
I figured I would refill my water bottle at the visitor area at the end of the trail, but I wasn't actually low on water at that point. I ended up just continuing on and then stopping at the junction of Sunrise and Idaho to text Mary, eat a Clif Bar, and fire up the GPS program on my iPad.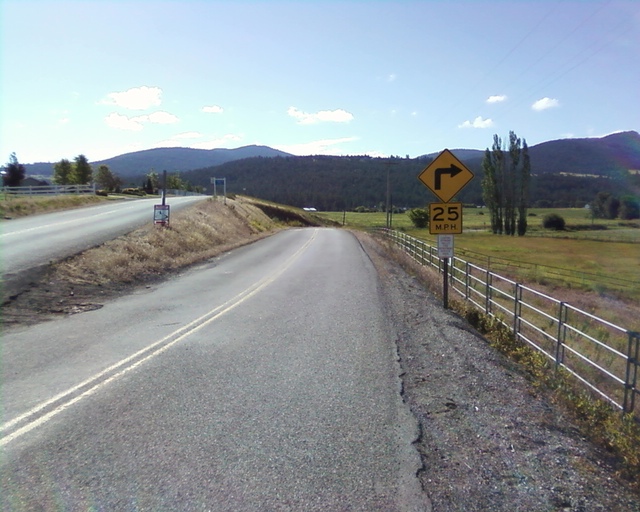 The real start of the ride.
The first significant climb starts in the hills to the east of Liberty Lake and then eventually descends down by the lake itself. The route was pretty straightforward through this section and the descent was fun. There were a couple new developments popping up next to the lake that offered new places for confusion as I worked my towards Sprague, but the route was pretty straightforward through here.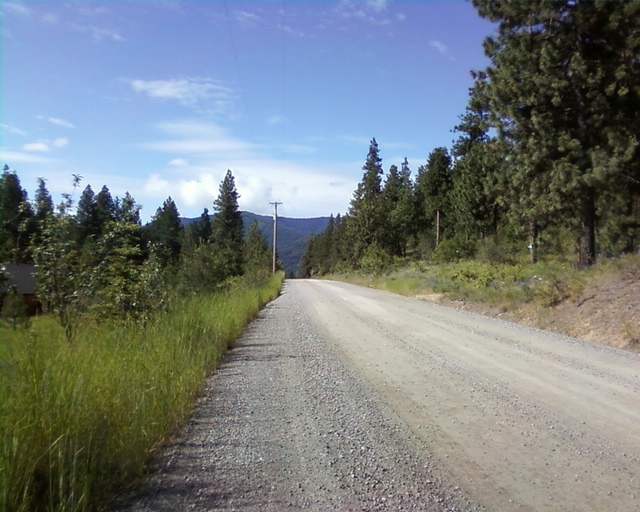 Finally some downhill in sight again.
The second significant climb heads south out of Liberty Lake on Molter and I really enjoyed the views to the north and west once you get up and over the initial hill. It's a huge expanse of prairie down below, while you continue climbing up and around the hillside on a road that seems like something out of the Tour de France.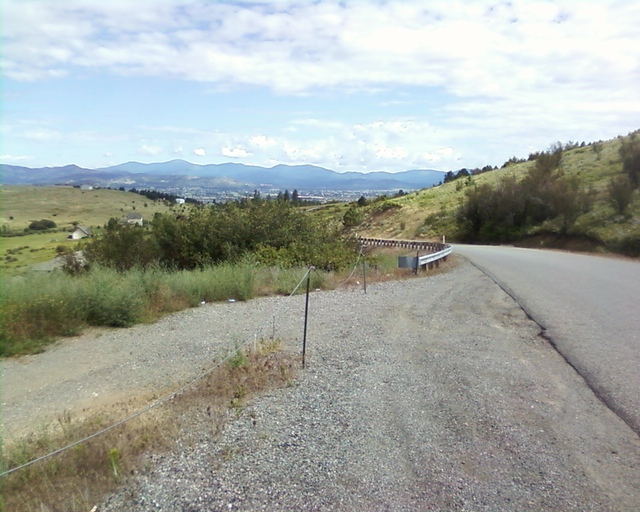 Most scenic climb of the day.
The second descent was pretty fun too, although I discovered the Saltese Lake Rd turn you need to make is slightly unintuitive. Saltese Lake starts working its way north to 32nd with some gradual climbing that eventual culminates in a climb up Linke and a third descent on gravel roads. Nothing too extreme, but it's climbing and descents on rough conditions all the same. Eventually I came out right at Highway 27 and descended north on it for a bit to get to the infamous Sand Hill road.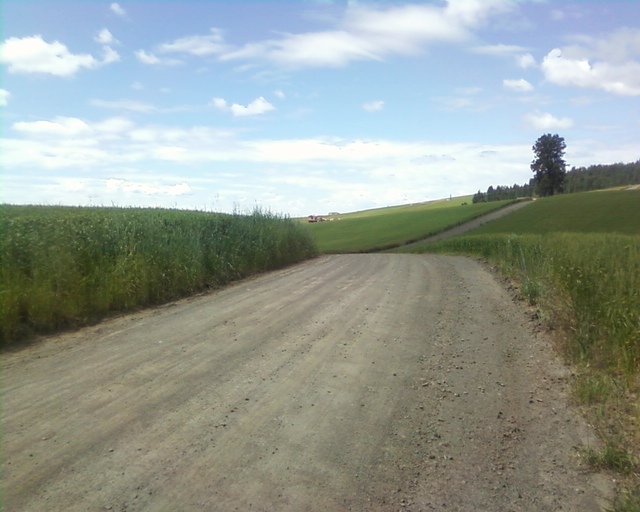 Near the top of Bruna Road.
The Bruna Rd portion of the climb off Sand Hill was pretty steep, but I didn't feel like it was any worse than the climb prior to Liberty Lake. I felt pretty solid all the way up. The descent down the dirt summer road could definitely be dicey in darkness though. And actually the short, but really steep Excelsior Rd roller was tougher for me from a psychological perspective because I wasn't expecting one last hard climb at that point. It was very satisfying to be done with the tough stuff at Dunn though.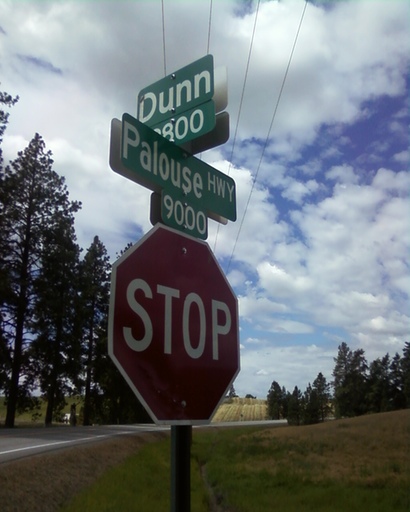 Nearly finished.
The ride back in on the Palouse wasn't too bad. I was able to get up to speed pretty easily on the flats and descents, but I didn't feel like I had much power on the last couple hills. I had no problems climbing, but I was stuck in 8-10km/h mode and in fact I got passed by three different cyclists. I was fine once I got up on the level ground of Moran Prairie though. Despite a little soreness here and there I felt really good overall the rest of the day. The full Midnight Century should definitely be pretty doable a month from now and I plan to pick up where I left off and ride the second half of the route from Dunn in another week or two.