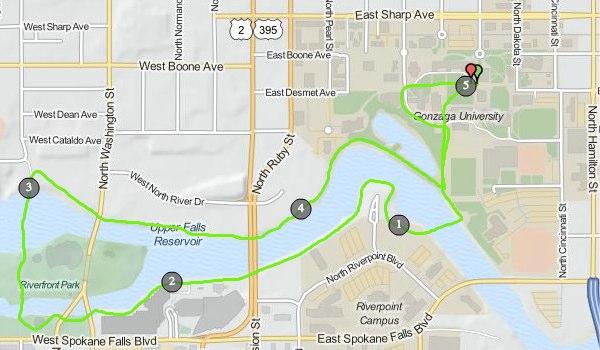 Today was the 10th annual Bulldog Jog down at GU and it just so happened that the training plan I'm using to prepare for Bloomsday this year calls for a 5K this weekend. So I went ahead and registered online last night just after midnight when I realized the race would fit my training needs perfectly.
Warmup
I got down to GU just after nine, dropped off my belonging in my office, and walked over to Crosby to sign in. Turns out the race is pretty small and low key. They had a small race clock, but no bib numbers for us to pin on, and sign in was just a matter of filling out a waiver and turning it in, and getting the run t-shirt. Start time was still about 35 minutes off so I headed back to my office to drop off my sweats and new t-shirt.
I like to get in at least a 15 minute warm up for races that are Bloomsday length or shorter so I headed out on a winding circuit of campus. I'd never done the run before so I wasn't sure of the exact route, but between campus and the Centennial Trail this is my home turf. I didn't come across any obvious course markings during my warm up tour of campus though so I hoped things would be obvious throughout the race.
I made one final stop by my office to drop off my sweatshirt and get one last drink of water, then jogged over to the start line again. A few veteran runner types started to join me near the starting line as the wind picked up. One college age guy with a slight build joked about being blown away by the cold gusts of wind that were hitting us as we waited. I guessed he was probably one of the favorites to win the race.
Start time ended up being delayed about 6 minutes because a funeral procession at St. Al's was crossing the course. To the alarm of the race organizer several of us headed out on a quick jog in an effort to stay warmed up; I let her know what was up as I passed by. In the end the race started with a simple "3 – 2 – 1" go about seven minutes behind schedule.
The Race
My goal going into the race was to run a time in the mid to low 19 minute range. My speed workouts have been going well lately and my tempo runs have confirmed that I can sustain 3:55/K pace for at least 5K without too much difficulty. Opening pace off the starting line was pretty fast for me, so I backed off and settled into goal pace once we passed Jesuit House turned south and started heading towards the Centennial Trail. The nearest runner to me at this point was the lead woman so I settled into my pace a little bit behind her and pondered my next move.
As we were plunging down the short descent by the practice soccer fields I realized I'd forgotten to turn on the auto lap feature on my watch. Not a big deal during a race like this, but it makes reviewing your performance post race a bit more informative if you don't have a computer handy to download the race data to. I dismissed this issue from my mind and got back to racing largely by feel (incidentally, Amby Burfoot just wrote a great article on listening to your body when racing).
I closed the gap a little bit between me and the lead woman on the short scramble up to the Centennial Trail and I think we passed at least one runner who had gone out too fast just past the Don Kardong bridge, but there were still at least four or five runners further on ahead of us. I stayed with the woman until just before we reached the first mile and then I realized that she was starting to slow slightly. I surged past her and worked on catching a few more of the runners ahead of me as we approached Riverfront Park.
Looking at my watch data post race I was definitely maxing out my heart rate at around 179 bpm during the third kilometer where I caught and passed a couple more runners. I remember noticing my heart rate at the time, but I must have been operating at just below my limit because I didn't blow up at that point. I passed one final runner just before the old Howard Street bridge, but from then on I was running in space with no runners immediately around me. I felt relatively strong, but I was still operating at the limit and really didn't have any extra left to try and move up to the next two runners on the Riverwalk trail portion of the run. I kept them in sight through the finish though and crossed the line 5 or 6 seconds behind the next closest runner in a satisfying 19:26.
All in all a fun run on trails and terrain that I know like the back of my hand, and one I'll probably do again next year if I can fit it into my usual spring marathon training program.